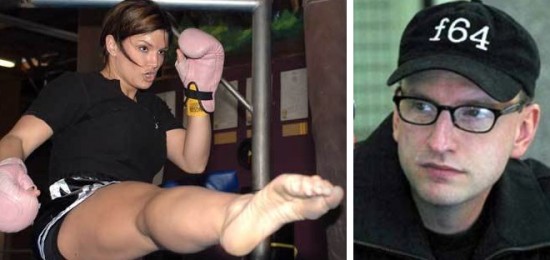 Det är på något vis tilltalande när kända personer byter bana eller extraknäcker med något annat än det man förknippar dem med. Ibland blir man faktiskt imponerad över att vissa verkligen är så multi-begåvade, men oftast blir det pinsamt uppenbart att det snarare är deras status än deras talang som är tilltalande för de nya arbetsgivarna – som när Fredrik Virtanen började göra TV eller när Linda Rosing försökte skriva en bok; ibland faller det på sin egen orimlighet, men idag kan man tydligen sälja en påse bajs om man sätter ett känt namn på etiketten.
Den nya "trenden" - eller vad man ska kalla den, verkar vara att filmindustrin ska utnyttja MMA-sportens medvind genom att göra skådespelare av fighters – ett slags: "omvänt Brock Lesnar". En av dagens filmnyheter är att den fortfarande fagra MMA-drottningen Gina Carano gör långfilmsdebut i Steven Soderberghs spionthriller Knockout och som vi alla vet ska Quentin Jacksson göra succé i den nya A-Team. Carano lär nog göra sig bra som en "tjej som hamnat på fel sida av lagen, men som får en chans till upprättelse" och det känns inte alls långsökt att Rampage ska spela Mr. T, då Mr. T i princip är baserad på Rampage, men om trenden fortsätter kan vi råka ut för rejäla otrevligheter. Jag läste precis på att Tim Sylvia gjort en stand-in för Michael Myers i den senaste Halloween-filmen (och inte Jason Vorhees enligt källan) och det känns väl i och för sig inte heller särskilt  långsökt, men inom en snar framtid kanske vi sitter där i biosalongen och ser Rich Franklin i Pet Detective 3 – Revenge of Shikaka, BJ Penn i Avatar – The last Airbender eller Tito Ortiz i Easter Island Comes alive.
Jag vill inte vara trångsynt och kräva att "man ska hålla sig till sitt" men vi vet ju av erfarenhet hur lätt saker och ting går över styr. Kanske gör Arnold ett bra jobb som guvernör i Kalifornien, men jag bävar mig för den dag jag tvingas höra orden: "I´ll be back – for sure" yttras av en uppumpad Nogueira.