Här sitter jag som en tvångsmatad gås och har nästan andnöd på grund av all julgröt och skinka som jäser i min mage. Samtidigt försöker jag se om det kommit nåt intressant i MMA:ns fantastiska värld…men det råder stiltje. Men visst har det kommit mindre nyheter som jag kan summera.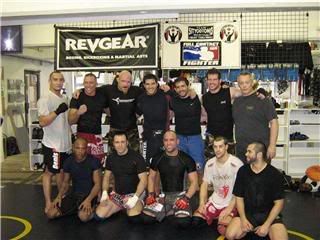 På bilden ovan kan vi se stora delar av GSPs camp inför matchen med Hughes. Men vem är det GSP håller om? Det är ju Jardine…så hur känns det Geniet? Att din favorit är bundis med ditt hatobjekt? Om ni klickar på bilden så kan ni se fler bilder med bland andra Denis Kang och Rashad Evans.
Enligt FightOpinion planerar CroCop att åka till Japan för att eventuellt vinka till fansen på Yarennoka (eller wrestlinggalan Hustle som tillhör DSE). Underligt att läsa att UFC inte får tag på honom men när japanerna ringer så verkar det inte vara något problem. UFC kanske tycker att CroCop inte håller pris-prestanda och tänker släppa honom?
Tidningen the Memphis Commercial Appeal har bestämt sig för att Quinton Jackson är årets sportsman. En intressant intervju där Rampage hävdar att han har en egen kock, att en Rampage energidryck ska lanseras och att han ska vara med i en film som heter "Midnight Meat Train.". Man vet aldrig vad som stämmer med komiske Rampage…men det är bra artikel.
Har inte kommit på hur jag ska lösa "inför UFC 79″ riktigt…men det kommer något. Sen är det ju också IFL finalerna…men har tappat intresset något eftersom matchningar kommer och går hela tiden. Yarennoka kommer Johan Wicklén att skriva om. Hur det blir med K-1 Dynamite!! och IFO: Fireworks in the Cage IV vet jag heller inte riktigt…jag har för hög kolesterolhalt just nu för att tänka.
God fortsättning!