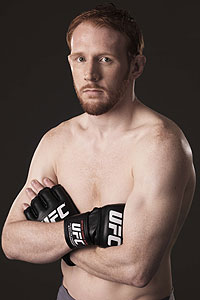 På lördag går UFC 97 och då får vi äntligen se David Bielkheden i buren igen. Den man som står i vägen för en andra seger i UFC för svensken heter Mark Bocek. En kille som dessutom slåss på hemmaplan och lär ha hela publiken i ryggen.
Bocek är född 1981 och är alltså två år yngre än Bielkheden. Deras bakgrund är liknande då Bocek precis som Bielkheden är svartbälte i BJJ. Han han gått 8 matcher hittills, att jämföras med Bielkhedens 19 matcher. Dock är det Bocek som kanske är den mest dekorerade grapplern av de två. Han har bland annat en världsmästartitel i BJJ samt har vunnit den nordamerikanska uttagningen till ADCC. Förutom detta har han en bakgrund i Kempo karate men är ändå främst en grappler.
Bocek har gjort en snabb karriär i MMA, hans debut kom så sent som 2004. Då gick han ett par matcher i Kanada innan han 2007 gick över till King of the cage. Där vann han två matcher på submissions och fick efter det chansen i UFC. Man kan gissa att det hade tagit längre tid om han inte var just kanadensare.
Debuten kom senare samma år och där fick han ett otrevligt välkomnande av Frankie Edgar och blev utslagen i första ronden. Efter det vann han i december 2007 mot Doug Evans på domslut. I nästa match fick han återigen problem, då var det TUF-vinnaren Mac Danzig som vann på stryp i tredje ronden. Men före dess hade Bocek bjudit på en riktigt hård match och imponerade på många med sitt hjärta och tuffhet. Hans senaste match gick på UFC 91 förra året, då vann han mot Alvin Robinson på stryp.
Summerat kan man säga att det är svårt att säga riktigt hur bra Bocek är. Danzig och Edgar är två duktiga killar, men hans vinster i UFC har kommit mot mindre meriterat motstånd. Dock gjorde han en riktigt bra match mot Danzig och visade att han är mycket svår att avsluta och kan ge stryk själv. Och han anses av många vara en av divisionens bättre grapplers. Det blir intressant att se hur hans plan blir mot Bielkheden då svensken har ett givet övertag i storlek. Det känns som att det är stor chans att vi får se en rörlig Bocek som letar takedowns och försöker undvika att bli upplåst av Bielkheden. Dock är allting bara spekulationer, hur det går i slutändan får vi se på lördag.
Mark Bocek vs Mac Danzig